Welcome To Tiny-Clutch®
Established in 1956, Helander Products, Inc. specializes in the design and manufacture of miniature clutches to serve a broad range of rotary motion control situations, including Aerospace, Medical, Packaging & Industrial Equipment. All of our clutches are manufactured at & sold directly from our plant in Clinton, Connecticut USA. We produce six distinct styles of clutches each suited to particular applications.
Roller Clutches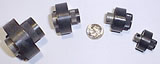 Complete Assemblies
High Free-Wheeling Speeds
Near Zero Backlash
Learn More >>
Magnetic Clutches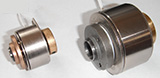 High Torque Capacity
Low Power Draw
Many Mounting Options
Learn More >>
D-Series Roller Clutches are a robust line of one way clutches featuring positive drive with near zero backlash, low overrunning torque and tolerant of high overrunning speeds.
CR-Series Roller Clutches are captured roller and cam assemblies that function the same as our D-Series, but which are installed in your housing.
A-Series Roller Clutches are a single revolution style roller clutch which can be mechanically activated to selectively couple a continuously rotating member and a driven shaft. They feature fast response, positive torque transmission, with powerful driving characteristics.
SP-Series Wrap Spring Clutches are a versatile line of spring clutches available in the following configurations: Overrunning, On-Off, Indexing, Adjustable Indexing & Positive Stop Indexing. The various configurations allow great flexibility in application. We produce a range of solenoid actuator brackets to work with each model of SP-Series clutch to allow easy mounting in your application.
M-Series Magnetic Spring Clutches combine the simplicity and driving power of a spring clutch with the convenience of electromagnetic actuation with very low current draw. M series Clutches drive either clockwise or counterclockwise with the output free in both directions when de-powered.
AD-Series Autodisconnect Spring Clutches are purely mechanical automatically disconnecting clutches and require no external actuation. When torque is applied to the input hub the clutch engages and drives. When torque is removed from the input the output is free in both directions. Ideal for applications such as tape take up reels when the output must be free in order to retrieve material off of the reel.
We excel at the design and manufacture of modified or custom units to suit your specific applications. We stock a large selection of materials and basic components from which we can quickly build clutch assemblies for your requirements. Clutch packages can be supplied complete with gears, pulleys, sprockets, solenoid actuators, etc.